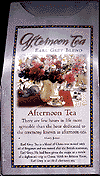 Ingredients: 100% premium black tea with oil of bergamot flavor.

Tea format: Bags with strings.

Where to get it: I found this tea in the Harvest Bookstore in Nashua, NH. Honestly, I can't find any other place that this tea is available!

Comments: This tea reminds me a lot of Kandia's Earl Grey. While being very good, they have a different taste than most other Earl Greys. (Can't put my finger on exactly what the difference is.) This is a wonderful Earl Grey.