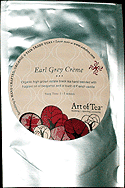 Date Rated: March 2009

Ingredients: Organic and biodynamic black tea, organic cornflowers, organic oil of bergamot, natural flavors.

Tea format: Loose in a reusable canister, loose in plastic zipper bags, or in pyramid tea bags.

Where to get it: This tea was graciously sent to me by Art of Tea. You can purchase it for yourself at their web site.

Recommended Preparation: Steep 2 (not rounded) teaspoons of loose tea for 5 minutes. (10 oz. cup)

Comments: Automatic kudos for being organic. This is a nice, medium-bodied tea with equally strong notes of bergamot and vanilla.