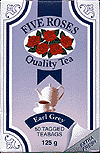 Ingredients: None listed.

Tea format: Bags with strings.

Where to get it: The president of Savannah Imports (the tea is from South Africa) was kind enough to send me a box of this delightful tea. You can purchase your own on their web page.

Comments: A very nice Earl Grey. I've been enjoying this one on a daily basis.