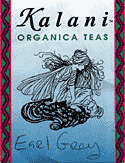 Ingredients: Indian black tea and oil of bergamot.

Tea format: Loose tea in a ziploc bag.

Where to get it: Kalani was kind enough to send me this tea. You can order it from their web site.

Comments: I've misplaced my review for this tea and don't have any left, but know that it was a 4-star tea! Automatic kudos for being organic.