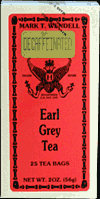 Date Rated: September 2003

Ingredients: Leafy black teas and oil of bergamot.

Tea format: Bags without strings.

Where to get it: I got this tea at Cooking Matters in downtown Nashua. You can order some on Mark T. Wendell's web site.

Comments: Characteristic of decaf tea, this Earl Grey is very weak. It is also scant on bergamot.