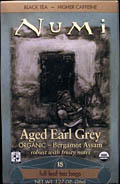 Date Rated: May 2007

Ingredients: Fair Trade Certified organic Assam black tea TGFOP Grade 1 and organic Italian bergamot fruit.

Tea format: Individually packaged bags with strings. Also loose tea in a metallic bag.

Where to get it: Numi was kind enough to send this tea to me. You can purchase some at Whole Foods grocery, or order from their web site.

Recommended Preparation: Steep bag for 5 minutes, or steep 2 (not rounded) teaspoons of loose tea for 5 minutes. (10 oz. cup)

Comments: Automatic kudos for being organic. Numi scents their Earl Grey differently from other companies in that they don't add bergamot oil to their base tea. Instead, they actually infuse the tea with the fruit itself, like how Jasmine teas are made. This is an excellent Earl Grey. It is medium-bodied with a medium amount of bergamot, and no astringency. I prefer the looseleaf over the bagged version (because I can control the amount), although the bags contain loose tea and are also very good.