During the Seventies and Eighties I drew hundreds of sketches for Marvel and DC. These were usually cover designs. The roughs were shown to the editors for approval,and then were given to the artists as guides in drawing the covers. They were often used to work out the color schemes as well.

Here are just a few of those sketches. As the site develops I will add descriptions and pictures of the actual finished covers.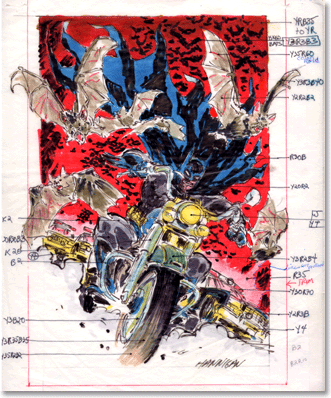 Above: an interior "pinup" page for the 500th issue of Batman. Note color annotations.
Usually I worked on tracing paper with colored markers, but sometimes I used layout paper or copier paper and water color, colored pencil or other kinds of paints and even grease pencils.


Sketches were done very quickly. I would do four or five a day, but sometimes more.

Often I would have to do multiple versions or smaller roughs or thumbnails before getting approval on a final sketch.