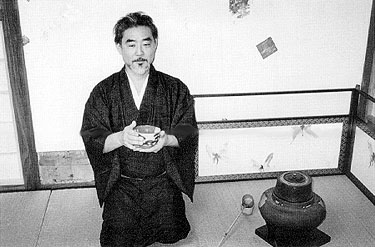 INTRODUCTION TO TEA CEREMONY


To participate in the tea ceremony there are no stressful rules. You come into the room next to the tea house and wait until you are invited in. After you are invited, you come into the tea house and kneel down. You give a light greeting to the host. To your left side you will see the "Tokono-ma" where the art piece for that day is hanging. You sit in front of the art piece and enjoy it a moment. Then you will be guided to your seat.

You may enjoy conversation during the tea ceremony, except when the host is preparing tea. The subjects of conversation should be concerned with the harmony of the people who are attending the tea. After all, there is no difficulty in tea ceremony, but only enjoyment.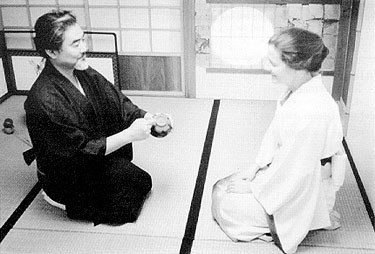 HISTORY OF TEA CEREMONY


In China, prior to 1000 B.C., someone discovered the good taste of tea as well as its health benefits. Since the discovery of the tea tree, tea has been taken as a very important beverage or medicine. Especially after distinctive religions such as Buddhism were established, tea started to be used by people who practice meditation to keep their minds clear and to maintain good health. However, the tea ceremony which presents tea in a more artistic aspect, not just as a beverage, came at a much later time.

Eisai is the name of the monk who brought back to Japan the good seed of tea with Zen Buddhism in the 13th century. So, naturally tea ceremony was formed with a Zen Buddhism base.

Today's most common form of tea ceremony was established in the 16th century, which is not only influenced by Zen Buddhism, but also includes Japan's distinctive culture. For instance, the "Noh Play" started to become a part of the tea ceremony. Even later Confucianism got into the tea ceremony. Currently, the tea ceremony is a place where all human cultural intentions can meet.

Simply, the purpose of the tea ceremony from the beginning to the end is to appreciate tea. Yet, in between there is a countless arrangement of ingredients.

Tea is ... to enjoy its taste.
Tea is ... the place where man's spirit and spirit are unified.
Tea is ... the place where art and humanism exist together.
Tea is ... the discovery of life, beauty, and peace.
Tea is ... very old and very young.
Tea is ... not ruled, but having tea will show you a natural way to follow by not asking you to behave anyway in particular, but to make tea better.

Tea ceremony is really a multi-media art form that intends to harmonize human beings and their life.