When I made my reservation for the Valentine Tea, I had no idea what to expect. I had no information on the tea room, and only vaguely understood that I was going to the headquarters of Tea: A Magazine. We were the first guests there, and as I stepped into the old house I was instantly charmed. The tea room was beautiful and cozy and dark and bright all at the same time. Three tables were set with mismatched cups and silverware (as I always do it myself) and arranged to offer couples their own small space while keeping everyone close. We settled down by the huge open hearth, which Pearl lit along with a menagerie of candles, these being our light once the sun was down.

The menu for the evening was not typical tea fare, but creativity must be garnered with applause, and most certainly in this case. We were served up a banquet of strange primary red bread (in keeping with the holiday theme) and baked garlic and onion to smear on it to our hearts' content. Vegetables and dip followed, along with giant shrimp and cocktail sauce, swordfish and snow peas, and sweet potato. Our naughties were heart-shaped shortbread cookies, orange spice scones with cream and raspberry jam, and sugar-iced banana cake. And there was, of course, tea. Throughout, our ears were entertained by "The Art of Tea," a piano compilation by Joe Gibson which was blessedly given to us as a take-home gift at the end of the evening. And after the meal, Pearl's friends treated us to a live musical performance!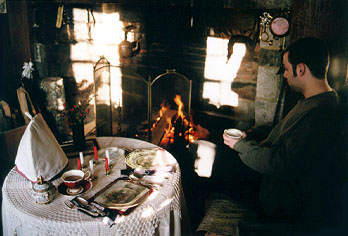 Photo by Julie Sparks.

I feel that I cannot properly convey the wonder and comfort that I felt in every minute of being there, the warmth and friendliness which filled the small room, and my supreme disappointment that the night would have to end. Pearl was a wonderful cook and gracious hostess, and it is a priceless thing that she gives to the world in her tea room and her magazine. She gave me the proof I was looking for that a place such as this can actually exist, and that I might even create one someday myself.