My visit to The Tea Cozy (June 13, 1998):

Housed in a wonderful old Victorian, this small tea room is half gift shop, half taste experience. One room off of the house's kitchen is dedicated to the serving of afternoon tea. Although the tables are close together and the room is not that large, there is a lot of wonderful detail on the walls and table settings which provides delight to the eye. Three smaller attached rooms comprise the gift shop, jam-packed with every tea accoutrement you'd ever need, including fresh-baked scones. Tea is served in individual pots (with tea cozies, of course!) according to your taste (they offer both black and herbal teas). We opted for the full-blown meal, which was presented in three courses: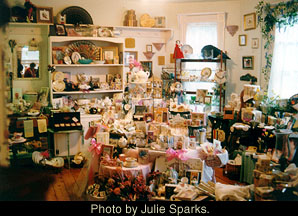 First course: Four small finger sandwiches of honey mustard and cheese on pumpernickel, sweet cream on cinnamon raisin, dill spread and cucumber on white, and an egg salad roll-up. Also a sweet fruit pasta salad.

Second course: Two soft, tender heart-shaped scones, and a strawberry-filled cinnamon scone. Also provided were strawberry preserves and Devonshire cream.

Third course: A tiny strawberry shortcake, tiny lemon merangue pie, and a chocolate strawberry square.

All of us very much enjoyed this tea -- the food was very good!