I first considered climbing Mount McKinley in the early 1990s, when I became increasingly interested in winter mountaineering. With McKinley in the back of my mind, I climbed a series of progressively higher and more difficult peaks to improve and assess my skills. In 1995 I made a successful guided ascent of Mount Rainier (14,411'/4,392 m.), followed by guided climbs on Iztaccihuatl (17,160'/5,230 m.) and Pico de Orizaba (18,408'/5,611 m.) in Mexico, and Huayna Potosi (19,974'/6,088 m.) and Illimani (to approximately 18,000'/5,500 m. on 21,125'/6,439 m. peak) in Bolivia. I also made solo ascents of Mount Shasta (14,162'/4,316 m.) and Mount Whitney (14,495'/4,418 m.) in California, plus many lower peaks and frequent winter trips in the Presidential Range and elsewhere in northern New England.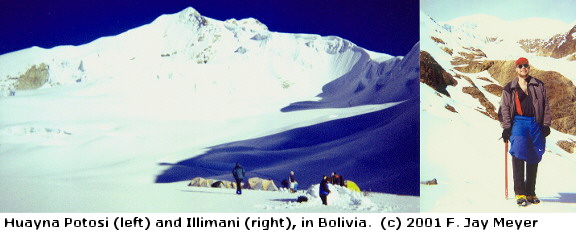 After a wonderful experience in Bolivia, where I discussed McKinley with a number of Alaska Range veterans, I began to plan in earnest for the climb that I knew was coming. For me it was clear that a guided expedition would be the safest and most realistic way to attempt the summit. Although I had not climbed with the
American Alpine Institute
before, I researched the available services (
six have National Park Service concessions
) and chose AAI based upon its well deserved reputation for skilled, enthusiastic guides and a collaborative instructional philosophy. I carefully considered the best time of year for the trip; McKinley's prime climbing season runs from May through mid-July, with May often having relatively cold but clear weather, June a high success rate and July warmer weather but additional hazards such as more exposed crevasses. In the end I signed up for
AAI's West Buttress expedition
running from May 24 through June 14.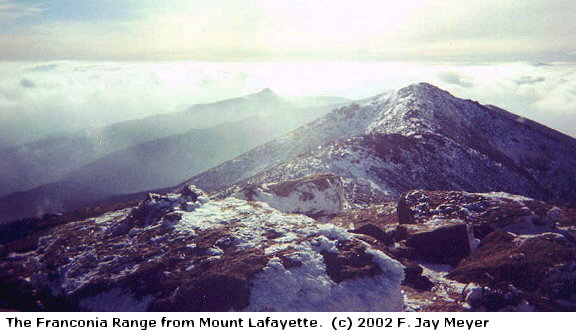 For more than a year leading up to my trip I engaged in a focused physical training program. In spring, summer and fall I ran several times a week, and during the winter I substituted a treadmill. I also made many long, challenging climbs and hikes in northern New England. Normally I go on mountain trips approximately once per month, but the frequency of these trips doubled in the winter of 2003 with memorable climbs including several in Mount Washington's Huntington Ravine and the northern Presidential range.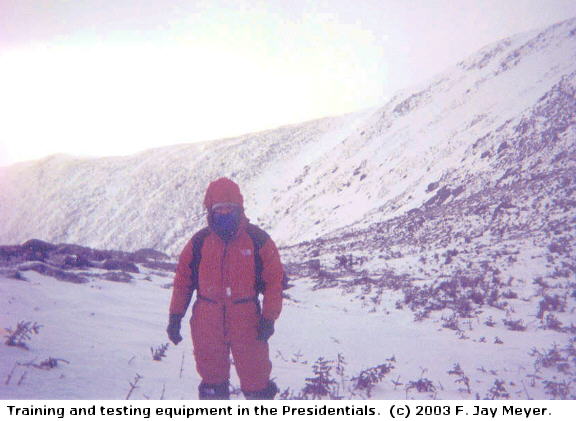 A trip to the Alaska Range imposes some unusual equipment demands. Although I had amassed a considerable kit of gear after years of winter and high altitude mountaineering, McKinley's weather and the trip's duration require specialized gear to deter frostbite and other cold injuries. Through bargain shopping and some generous gifts, I procured items including a -40 deg. sleeping bag, arctic boot liners, overboots, overmitts and overgloves, a one piece climbing suit and an expedition sized backpack. Top quality equipment provided me an important margin of safety and comfort on the mountain.